Noosh-e-Jaan, 21 June 2018
Natural stone houses, thousand-year-old monasteries and castles. Those in search of the old Europe will find it in Georgia. The villages smell of cow dung and wood fire and I share the road with horse-drawn carriages. After a tough climb from Russia over a 7,800 foot mountain pass, I ended up in the lowlands with a traditional farming family preparing for the annual grape harvest.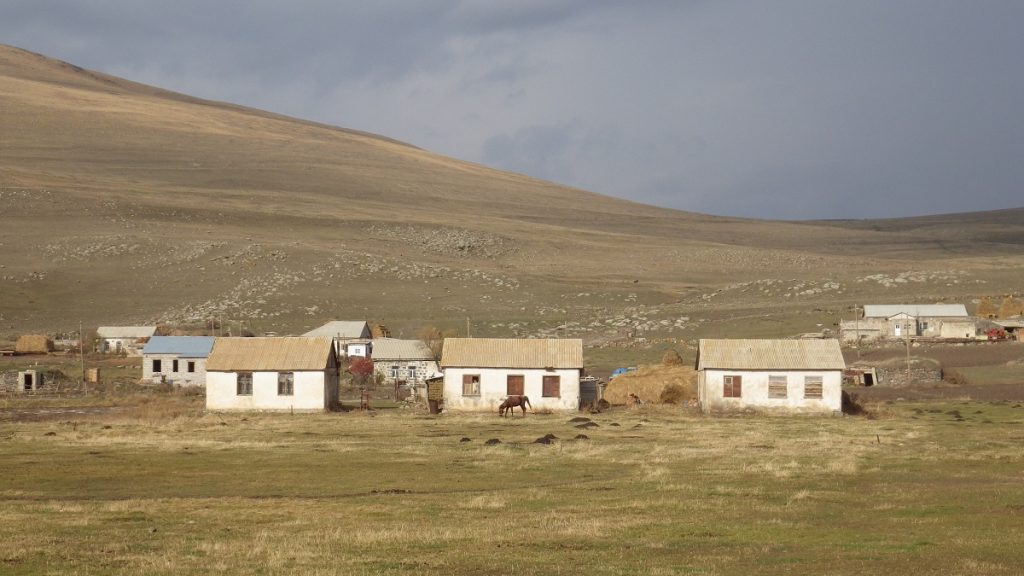 Under the full October sun I am standing between the vines next to a very bent grandmother, her obese son and their cheerful neighbor. Granny skillfully cuts the ripe grapes from the vine and tosses them into a large plastic bucket at her feet. I still lack some speed, but enthusiastically partake in my first grape harvest. "As a little girl, I stayed home to help cook the feast and waited excitingly for the horse carts with grapes," Grandma says. Nowadays the harvest is transported by car, but other than that it is still done as in the old days: harvesting is done by hand, pressing by foot and fermentation takes place in underground earthenware jars.  
During the break there is delicious Georgian wood-oven bread, tomatoes and cucumbers from their own garden and cheese from the neighbor. We happily continue our harvest and I slowly get the hang of it. The work is hard, but fun. The ladies are chattering loudly while picking, the men collect the full buckets and load the grapes into their old Lada. At the end of the hot afternoon we are done. We wash the sweat and sand from our faces in a stream next to the vineyard and return to the village with two cars full of organic grapes.
At home we are awaited by the women who stayed behind, toiling away all day to prepare a traditional supra, a Georgian feast. On the table I see shashlik with plum sauce, strong sheep's cheese, salads, bread, spinach paste and eggplant rolls with walnut and pomegranate. For me, these rolls are the symbol of Georgia's classical fusion cuisine at these cultural crossroads. The country benefits from the smooth flavors of the Mediterranean, the robust power of Russian cuisine, a touch of rawness from the Asian steppe and the spicy finesse of the Middle East.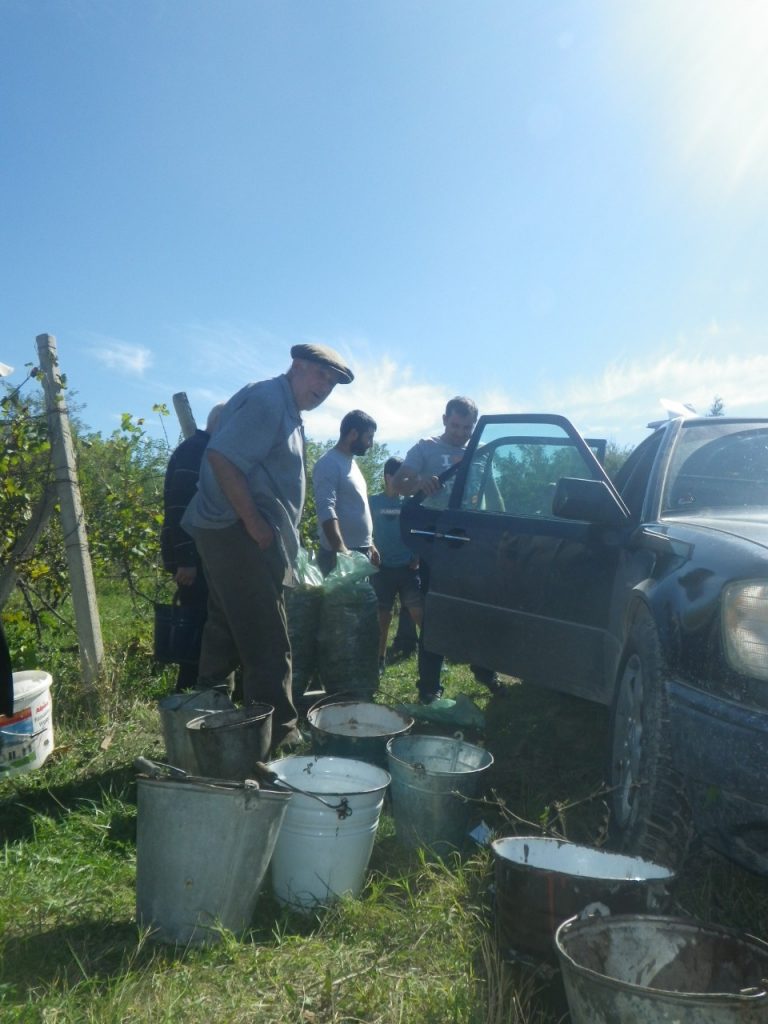 A chicken walks into the kitchen and is chased away with a stick by a grumbling grandmother. All family members are packed around the large dining table in the old farmhouse and take their time to enjoy this feast. They are proud of their land, their family and their produce, so celebrating the harvest is an important reward for Georgian farming families. With a loud kaumarjos we raise our glasses. Cheers!
Georgian Eggplant Rolls
Invite your friends for a real Georgian supra and cram your table with the best of this rich cuisine.
Ingredients for 4
1 ¾ cup walnuts, peeled|3 cloves of garlic, finely chopped|1 tsp ground fenugreek (optional)|1 tsp paprika|0,5 tsp coriander|2 tsp white wine vinegar|salt and pepper|2 large eggplants|4 tbs olive oil|4 tbs fresh pomegranate seeds|fresh parsley or coriander|1 small red onion, in half rings|
Finely grind the walnuts in a mortar or food processor and mix with garlic, fenugreek, paprika, coriander, vinegar, a splash of lukewarm water, salt and pepper.
Thinly slice the eggplants lengthwise. Then fry the slices in oil over medium heat until golden brown on both sides. Drain on a paper towel.
Spread the walnut paste evenly over each slice of eggplant. If the paste is too thick, add another splash of water.
Fold the eggplant slices in half or roll them up and garnish with pomegranate seeds, coriander or parsley and red onion. If necessary, pin down with a skewer.
Serve as an appetizer or with Armenian meatballs and itch salad from Nagorno-Karabakh for a true Caucasian meal.